Soil Health & Watershed Groups
Sauk Soil & Water Improvement Group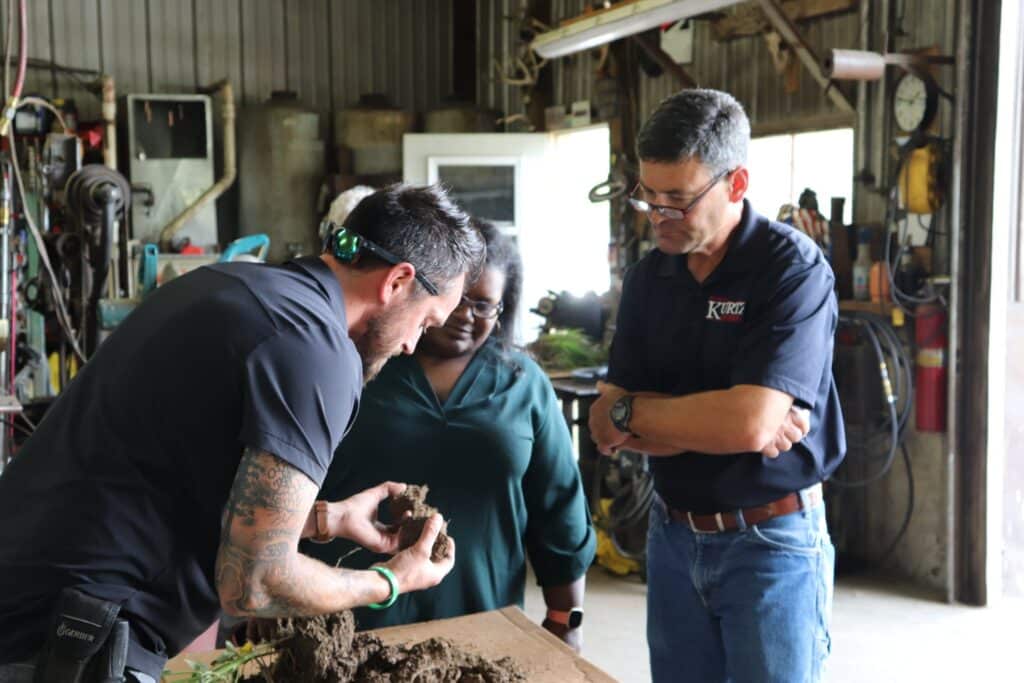 Contact: Justine Bula - Education Coordinator, Sauk County Land Resources and Environment Department
Mission Statement: Improving soil health and water quality through regenerative agricultural practices and education to build resilient family farms and thriving rural communities
Vision Statement: Healthy soils, clean waters, and thriving communities supported by resilient family farms.
Goal 1: Measure and increase adoption of regenerative practices and management systems that
improve soil health and water quality.
Objective 1.1: Conduct an annual farm practice survey and present results.
Objective 1.2: Implement a cost-share program to fund…. the integration of livestock on cropland; harvestable buffer (>35') around riparian areas; regenerative system implementation; no-till; testing
Objective 1.3: Support farmer implementation of regenerative management systems by hosting peer group (social/technical) meetings where farmers can share their successes, failures, and ideas as to better overcome the learning curve associated with the adoption of new practices/management systems.
Goal 2: Increase awareness and understanding of the impact regenerative management systems have on soil health, water quality, and farm resilience
Objective 2.1: Host an annual workshop, featuring leaders of the regenerative agriculture movement as guest presenters.
Objective 2.2: Conduct on-farm research across 4 farms for a period of 4 years to quantify the soil health and economic impact of regenerative management systems.
Objective 2.3: Host 6 field days annually to demonstrate the benefits of regenerative management systems.
Objective 2.4: Partner with local FFA organizations to run youth agricultural education programs.
Goal 3: Develop the outreach and networking capacity of SSWIG
Objective 3.1: Host one annual community meeting that serves to bring together farmers and non-farmers to find common ground.
Objective 3.2: Create and distribute SSWIG signage and swag.
Objective 3.3: Design and publish a SSWIG website to serve as a point of reference for anyone interested in the group.
Goal 4: Expand SSWIGs organizational capacity
Objective 4.1: establish SSWIG as a 501c3 entity.
Objective 4.2: hold bimonthly group meetings to organize and execute projects.
Objective 4.3: establish administrative group roles for group members.
Objective 4.4: establish terms for committee members and election or nomination policies.
News & Stories
Watershed or Service Area Map
Growing a Group:
Active group 5+ years
Book sharing
Farmer-led group
Formed a new group
Fundraising
Grant writing
Member-led project planning
Neighbor to neighbor mentoring
Personal invitations to neighbors to grow the group
Other
Collaboration:
Actively participated in local watershed planning process
Collaboration with agriculture or conservation organizations
Collaboration with local ag retailers and/or crop advisors
Collaboration with local civic groups
Collaboration with local college or university
Other
Outreach:
Engage local schools
Media interviews
Presentation to groups
Promotion to media outlets
Social media cultivation
Video Development
Website Development
Other
Land & Water:
Bioreactors
Cover crops
Crop diversification
Floodplain restoration
Grass waterways
Grazing
Nutrient management & retention
Perennial crops
Prairie strips
Saturated buffers
Stream buffers
Stream restoration
Water retention basins
Wetlands
Other - No Till
Assessment & Data:
Agronomic data collection
Field edge data collection
Field walkovers
Stream monitoring
Other
Events:
Fishing event
Farm field days
Paddle event
Upstream or downstream connections/visits
Booth at local event
Other
Fishers & Famers Partnership Program Participation:
Workshop
Neighbor to Neighbor Radio Podcast
Boots on the Ground Online Conversation
Group Presentation
Project Tour
Featured in a Story
Featured in a Video
Meetings
None
Want to be in this directory?