Oxbow alchemy better than lead into gold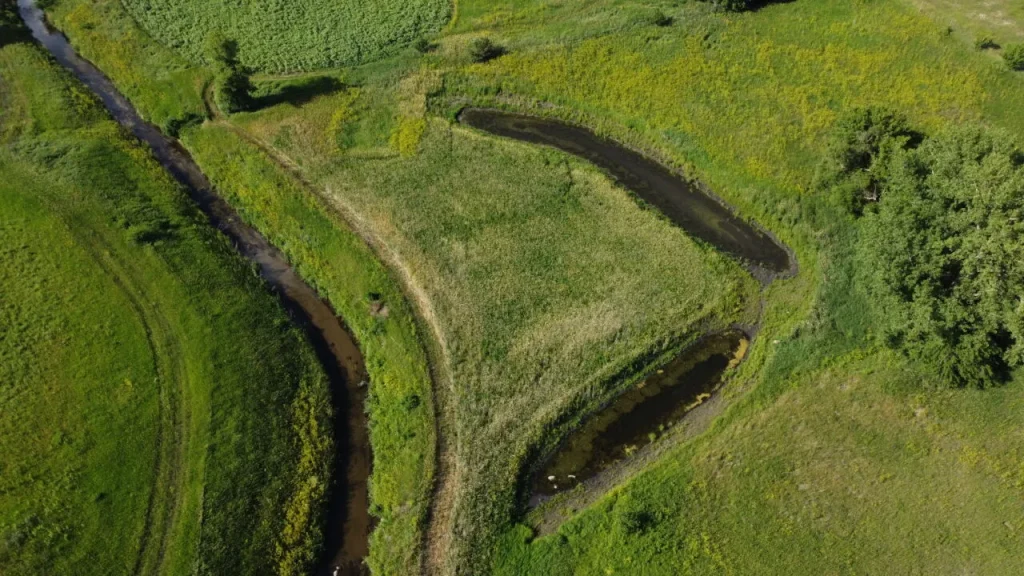 Alchemists once sought to turn lead into gold, but restored river oxbows do even better, improving water quality, creating habitat for diverse life forms and healing our souls.
Camille Rogers is reaping these benefits and more, thanks to a statewide oxbow restoration program in Iowa. A coalition of state and federal agencies, as well as The Nature Conservancy, Fishers & Farmers Partnership for the Upper Mississippi River Basin and others, work with landowners to give nature a hand, at no cost to the landowners.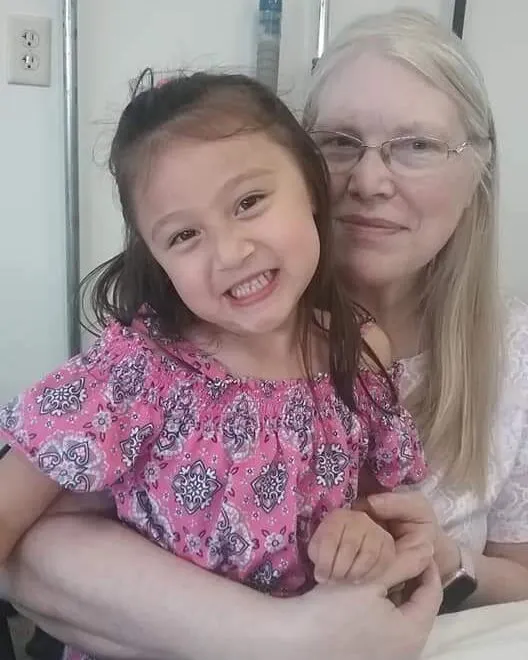 For Rogers, the work is personal. "When Karen Wilke of The Nature Conservancy contacted me about restoring an oxbow on our farm, I didn't know anything about them," admits Rogers. "My husband was sick at the time, and I didn't think I could manage more, but he encouraged me to pursue it, feeling I would need a purpose later on."
A haven and a possibility
Rogers did, and the project came to fruition this past summer as a contractor went to work on a low area in a pasture near the Boone River. As a girl, the area had been a haven for Rogers, a place to bring a book, very raw and natural. An old cottonwood marked the spot where a pond would develop each year, only to dry up in the summer. Rogers had no idea the river had once meandered through the pasture in an oxbow shape, long since cut off from the river and silted in.
Wilke did know. Rogers' lost oxbow was one of more than 400 potential oxbow restoration sites identified in the Boone River Watershed, one of the most biologically rich river systems in the state. As Iowa Freshwater Specialist and Boone River Project Director, she knew the Boone was home to the endangered Topeka shiner. Oxbows are key to its recovery.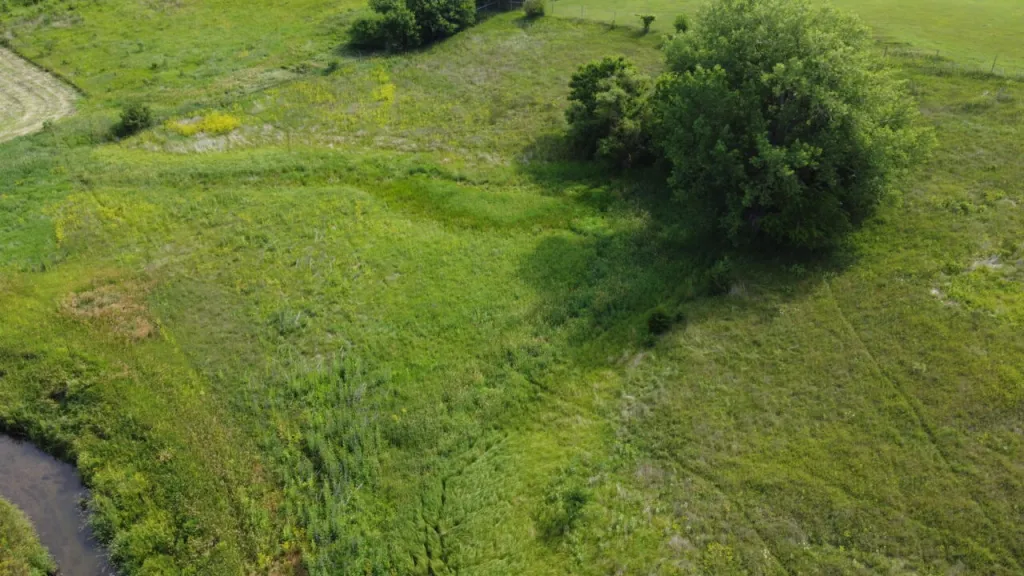 Why care about a minnow?
Working oxbows are truly a workhorse of nature. Created over time as a river or stream meanders across the flood plain, it is eventually cut off from flow. The oxbow becomes its own world, serving as flood retention, a nursery for minnows and other small fish like the shiner and a myriad of other creatures, large and small. Over time, countless oxbows have silted in as runoff from adjacent fields deposited soil. As habitat disappeared, so did the shiner.
"It used to be found all over the Midwest, but now is only found in three small watersheds in Iowa and one in Minnesota," says Wilke.
"The Topeka shiner needs well functioning oxbows that hold water most years and connect regularly to the creek to reproduce, survive and flourish," says Darrick Weissenfluh, private lands biologist, U.S. Fish and Wildlife Service. "If Topeka shiner are present, we often have an abundant and diverse fish community," he says. "With flooding, fish move into and out of the oxbows. As the water recedes, the oxbow can be cut off for months, during which shiners and other fish reproduce. Predatory fish like northern pike, smallmouth bass and crappie are also present and predators of fish such as great blue heron, bald eagles, osprey and otter often enjoy the prey 'buffet' that oxbows provide."
Successful work in Iowa
About 35 oxbows have been restored in the Boone River Watershed since the early 2000s, with close to 150 statewide. "We've been able to monitor them and show their success," says Wilke. "We are seeing Topeka shiners by the thousands in a quarter-acre oxbow. However, they are only one of more than 57 species of fish found utilizing restored oxbow habitats, with more than 81 species of birds identified in them. Countless other wildlife species live in and around them."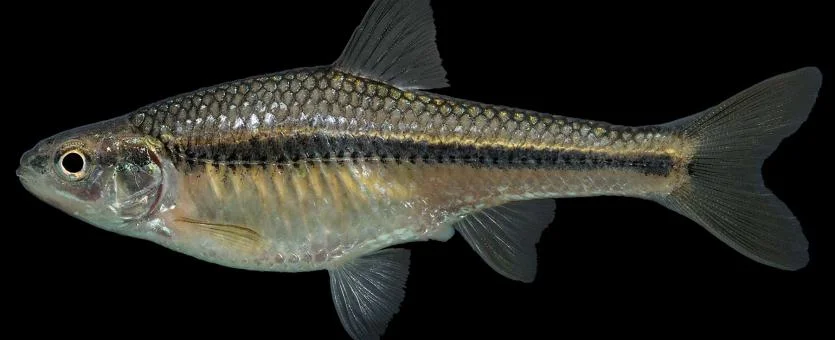 Positive impacts
The impact of the oxbow goes far beyond its immediate geography. The Boone is also one of the biggest exporters of nitrates out of the state. Plants growing in and around oxbows remove from 40 to 90% of nitrates delivered from field tile outlets, nitrates that would otherwise have negatively affected aquatic life all the way to the Gulf of Mexico, where the excess nutrients contribute to the hypoxic dead zone.
"The longer the oxbow holds the water, the greater the reduction in nitrates," says Wilke. "After only 21 days, up to 100 percent has been eliminated."
Add to that the benefit of stormwater retention. Each one-acre oxbow provides an estimated one million gallons of floodwater storage each year. This is water that would add to economic losses already incurred by seasonal flooding.
Benefits less easy to quantify
While wildlife, water quality and water retention benefits from oxbow restoration can be measured, there are others less easy to quantify. For Rogers, it all goes back to a conversation she recalls having with her late father as he farmed the adjacent fields. "He felt most people get it wrong, thinking they own the land," she recalls. "He said land is a gift from God, and it is our job to care for and nurture it."
When Wilke explained the restoration process and its many benefits, Rogers recognized how well it fit with her dad's words and the stewardship of the land that was so important to both her parents. The design was for two oxbows with a land bridge between them.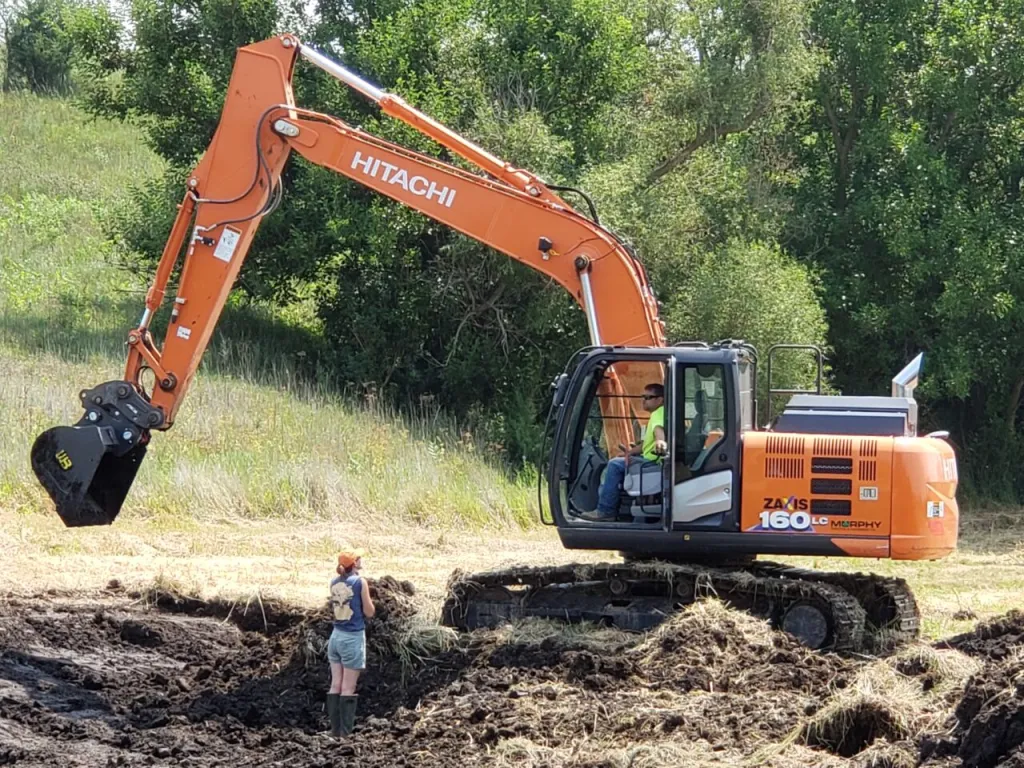 Creating something for the future
Construction took place in the drought fraught summer of 2021, followed by seeding native grasses, forbs and wetland plants. Even before late summer rains filled the oxbows, Rogers began reaping rewards.  For her, it was part of a healing process. While planning progressed she lost her husband and since 2018 her mother and a brother who had farmed the land. Like the restoration, she was now moving forward, creating something for the future.
"My granddaughter visited in August, and we hadn't had a drop of rain," recalls Rogers. "We had such a fun day exploring the dry oxbow beds. She saw more than 50 goldfinches, and there were butterflies everywhere. She collected rocks and was so excited to see everything. She told me, 'Oh grandma, this was the best day of my life!'"
— Story by Jim Ruen 
Fishers & Farmers Partnership for the Upper Mississippi River Basin supports collaborative, local, farmer-driven work for healthy streams, farms and fish habitat. For more than a decade we have provided funds to projects in Iowa, Illinois, Minnesota, Missouri and Wisconsin, as well as connection and leadership development for local teams, including this Iowa project. Learn about Fishers & Farmers Partnership funding and apply here.