Growing grassroots change: Farmer-led conservation is getting a little help from its friends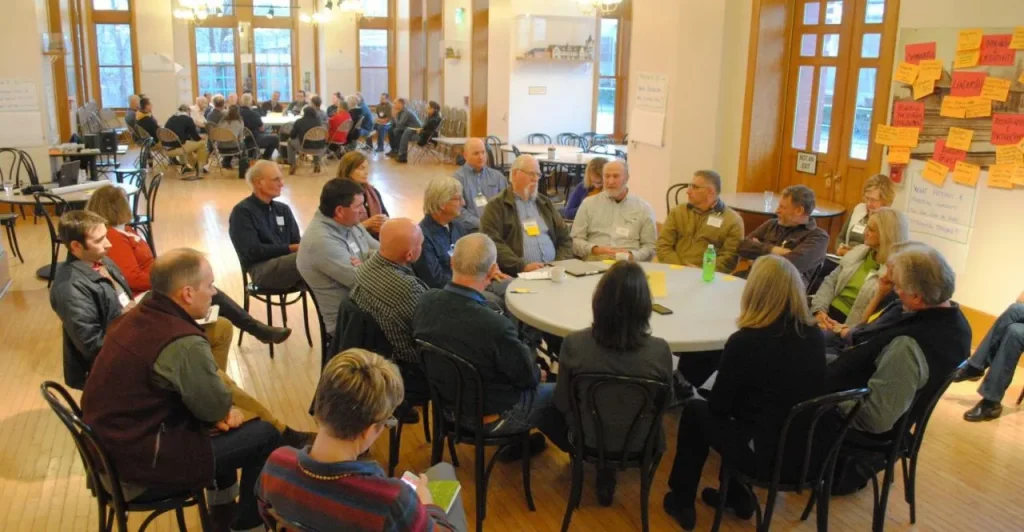 Renovating a drainage ditch got Minnesota farmer Pat Duncanson thinking beyond his field edges, eventually leading to involvement in Minnesota's Le Sueur River Watershed Partnership.
Lakeshore owner demands for buffers led Watertown, Wisconsin farmer Tony Peirick to help start Dodge County Farmers for Healthy Soil-Healthy Water—in part to help reduce phosphorous entering a lake.
Getting involved in the formation of the Tainter Creek Farmer-Led Watershed Council just made sense to Viroqua, Wisconsin farmer Brian McCulloh.
"We've been here 35 years and have witnessed runoff," says McCulloh. "I thought a watershed group was worth paying attention to, so I attended meetings with an open mind and have continued going. We have more questions than answers, but what helps us is having fellow producers try things and struggle with the same things we did."
Emerging farmer-led trend
All three farmers are part of an emerging trend in agriculture: Farmer-led groups dedicated to soil and water health. Members of these grassroots organizations are often on the leading edge of changes in conservation practices, from water management to reduced tillage and cover crops. If not yet changing their own practices, they are seeking ringside seats to evaluate and adopt new techniques as they are proven at the local level. This includes the water storage Duncanson installed on his tile lines; the planting green practice that Peirick started three years ago; and the cover crops that McCulloh is using to break up hard pans instead of tillage.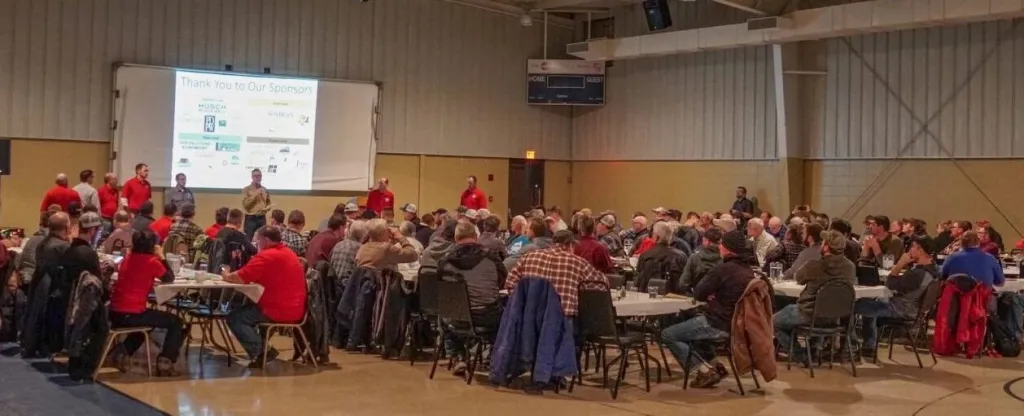 While farmer-led groups are not new, what is new are the support systems they are finding and the impact those supports have on longevity and the groups' impacts. UW-Extension Crops and Soils Area Agent Loretta Ortiz-Ribbing worked to help farmers in Illinois adopt cover crops practices before moving to Dodge County, where she helped Peirick start that organization. She credits the passion of the local farmers involved, but also the support they get from other groups in the area, such as the Dodge County Alliance for Healthy Soil and Water, which is a consortium of the farmer group, government agencies, Extension, lake shore landowners associations and others.
Farmers and non-farmers together
Peirick's involvement in a predecessor group, the Dodge County Non-Point Source Group, exposed him to the importance of farmers and non-farmers working to understand each other. While those mandatory buffer issues were largely resolved, he saw the need for more education on soil and water quality issues. So, he approached Ortiz-Ribbing about starting a group.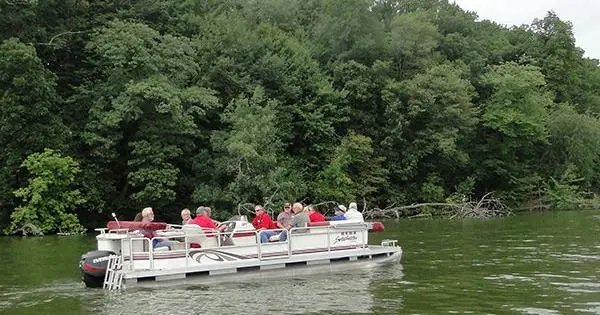 Two years later the organization has grown from five to 50 members and has held 12 events, including field days and workshops that reached more than 1,200 people. Working with the Alliance, farmers have been hosted on pontoon boats on a local lake and lake owners hosted at a dairy farm. Peirick and Ortiz-Ribbing give a lot of credit to the Alliance for input and support, as well as funding help due to a grant from the Wisconsin Department of Agriculture, Trade and Consumer Protection (DATCP) to support events, cost-sharing, and on-farm research that Ortiz-Ribbing helps set up.
Spawns more groups
Ortiz-Ribbing reports that farmers in neighboring Fond du Lac County want to start a similar group. Peirick and co-chair Marty Weiss report receiving calls from around the state from farmers interested in starting their own groups. Meanwhile with funding support from the Lake Sinissippi Improvement District, the group is providing cover crop seed to 30 new users this fall within that watershed.
"It helps to have extension as the backbone and support, but the group won't succeed if they led it," says Weiss. "It needs to be peer to peer."
In Minnesota, Duncanson is quick to credit off-farm partners for the LeSueur group's success. It was a call from the Water Resource Center, Minnesota University Mankato, that brought him into the Le Sueur River group, as he was asked what he would tell future grandchildren about what he had done to protect the Le Sueur River.
That call happened about the same time he was involved in a drainage ditch renovation that included buffer strips, diversion ponds and other conservation structures and strategies to slow down and reduce peak flow rates.

Family, future farmer impact
The project had affected Duncanson's thinking about drainage and downstream responsibilities.
"For four generations my family worked hard at getting rid of water at any cost," he says. "You can't run a profitable farm without drainage, and yet our drainage has consequences. Now, in my generation, we are trying to make changes that still get rid of water, but with less impact downstream."
Duncanson's response to that phone call was to get involved in the Le Sueur River group. They put together focus groups and came up with seven initiatives that would be good for the river, including encouraging buffer strips and other conservation practices on the land, educating people about the river and encouraging programs for landowners and stakeholders that had less red tape.
"Citizen boots on the ground are critical to solving problems," says Duncanson. "This is a grass roots approach to get local citizens talking and moving the needle."

Farmer groups better than legislation
In western Wisconsin, near the Minnesota/Iowa border, off-farm support has been vital to the Tainter Creek group as well. The local extension advisor, other state and federal agencies and Valley Stewardship Network (VSN), a local non-profit, all provide help. Matt Emslie works part time with VSN and helped organize the Tainter Creek group. As a partner, he supports their efforts, but emphasizes the farmers are in charge.
"Rather than being told what changes are needed, they know what will have the most impact on the ground," says Emslie. "Their peer-to-peer contact also has much greater impact on other farmers than legislation would. That's why groups like ours want to get on board and assist them."
Currently the Tainter Creek group consists of about 15 people who meet every other month to talk about problems and discuss practices. This past summer they hosted a field day on McCulloh's farm with 150 to 170 people attending. Nationally recognized cover crop and no-till promoter Ray Archuleta was guest presenter. Like the Dodge County group, funding for the event came from a grant from DATCP, one of nineteen grants to similar watershed groups in Wisconsin in 2018. The grant also covered activities including cost sharing for 500 acres of cover crops.
Ongoing dialogue important
While events and activities are valuable, it is the ongoing dialogues with others in the group that has been the real strength for McCulloh. "I am tired of the polarization everywhere, not just in ag," he says. "In the group there is a fundamental, mutual respect. When something doesn't go the way you hoped, it helps when you have a fellow producer who struggled with the same thing you did. It provides some camaraderie."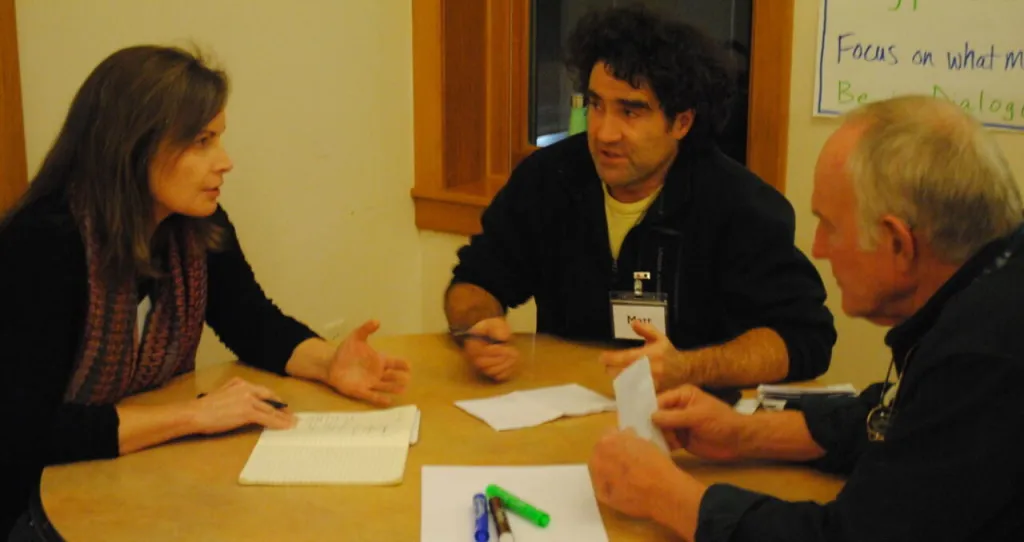 Camaraderie and sharing are two reasons Duncanson and Emslie have attended workshops put on by the Watershed Leadership Network (WLN), an offshoot of Fishers and Farmers Partnership for the Upper Mississippi River Basin. The Partnership was originally funded by the Fish and Wildlife Service in part to increase dialogue between ag and non-ag groups at the grassroots level. WLN was in turn funded to offer support for farmer-led conservation groups.
Nancy North is the WLN lead and tracks 50 such groups in the Mississippi River Basin. Farmer leaders or coordinators from half of them have attended one or more leadership workshops hosted by WLN and organized by North.
"We use a very interactive format to bring farmers, their local coordinators and community partners together to learn from each other about challenges they face," says North.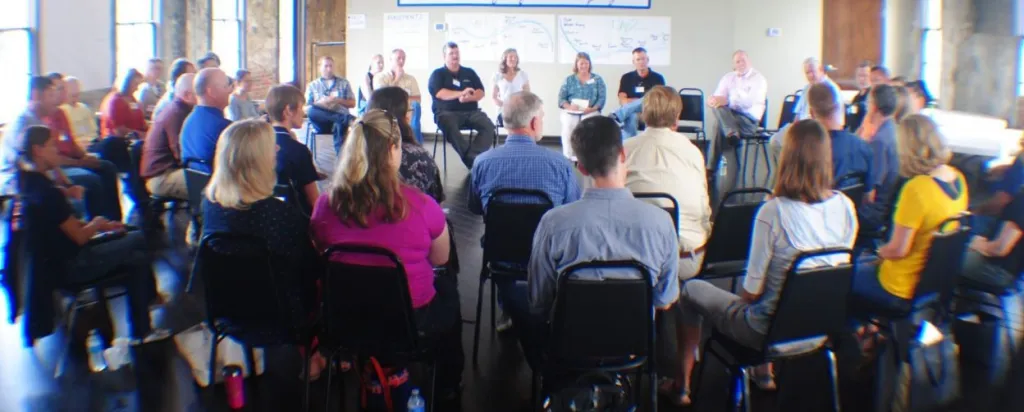 Attendees learn how to listen and hear what is being said. Questions posed by attendees and the resulting dialogue draw out other attendees. "They learn they can trust their peers in the workshop and not be judged like they would in their local community," says North. "Those who come to one workshop tend to come back. They call each other to ask about organizing or how to get certain people involved and use what they've learned in workshops back home."
— Story by Jim Ruen, published by CornAndSoybeanDigest.com
Fishers & Farmers Partnership's Watershed Leaders Network workshops offer local groups led by farm operators, landowners, and land managers a place to learn from each other and gather in an environment of respect and trust. Local teams often include ag retailers, SWCD board members, watershed project coordinators, ag excavators, fishers and hunters who value time to think together and identify next wise steps for their local work. Want to sponsor or host a local workshop? Contact us here.