Dubuque, Iowa | November 28-29, 2017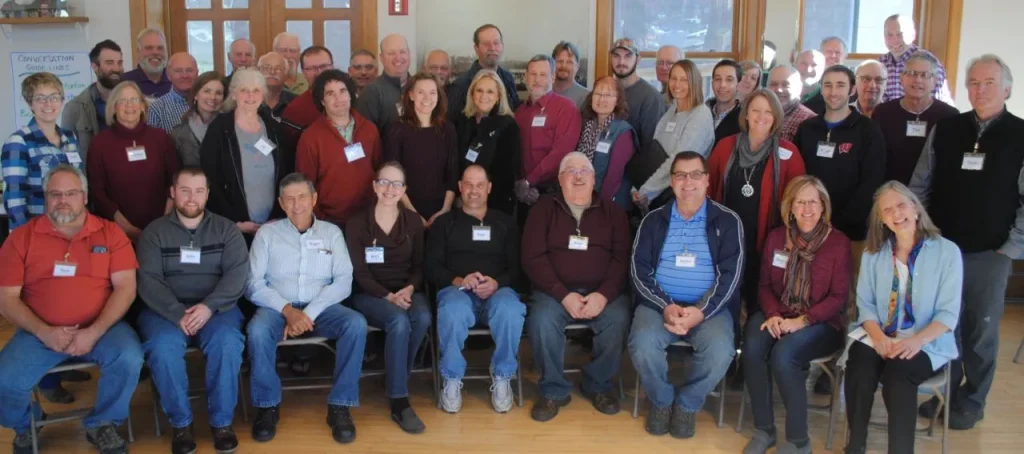 For two days at the National Mississippi River Museum & Aquarium in Dubuque, Iowa, 60 people gathered to meet peers and share their work to improve soil health, streams and places they care about. Fourteen farmer-driven watershed groups participated.
Committed, curious people shared diverse experiences, listened for strategies and actions that build success, and posed questions about topics that matter to them. Participants asked each other for new perspectives. Away from daily work they reflected on local realities, challenges, resources, options and fresh approaches. Then, with the help of a clear framework and feedback from peers, they identified next wise steps for their work at home.
At the end of the workshop each group shared the next wise steps they'd identified. Some offered expertise or ongoing support to others. All left knowing they are part of a bigger effort than they knew, and they are not alone.
See a photo-rich, session-by-session description of this workshop at this link.
Participant comments reflect the energy of the event:
Forming our farmer-led group after last year's workshops raised us to a new level of possibility for action. • We learned things we can act on in a focused way, and we're making a difference in our area as a result. • The fact that people from our area could spend extended time together learning what others are doing, sharing our stories, and talking about what we think is important and possible is simply priceless.
Connect with peers.
Gain perspective.
Identify next wise steps.