Addressing water quality connects neighbors in Blackhawk Creek Watershed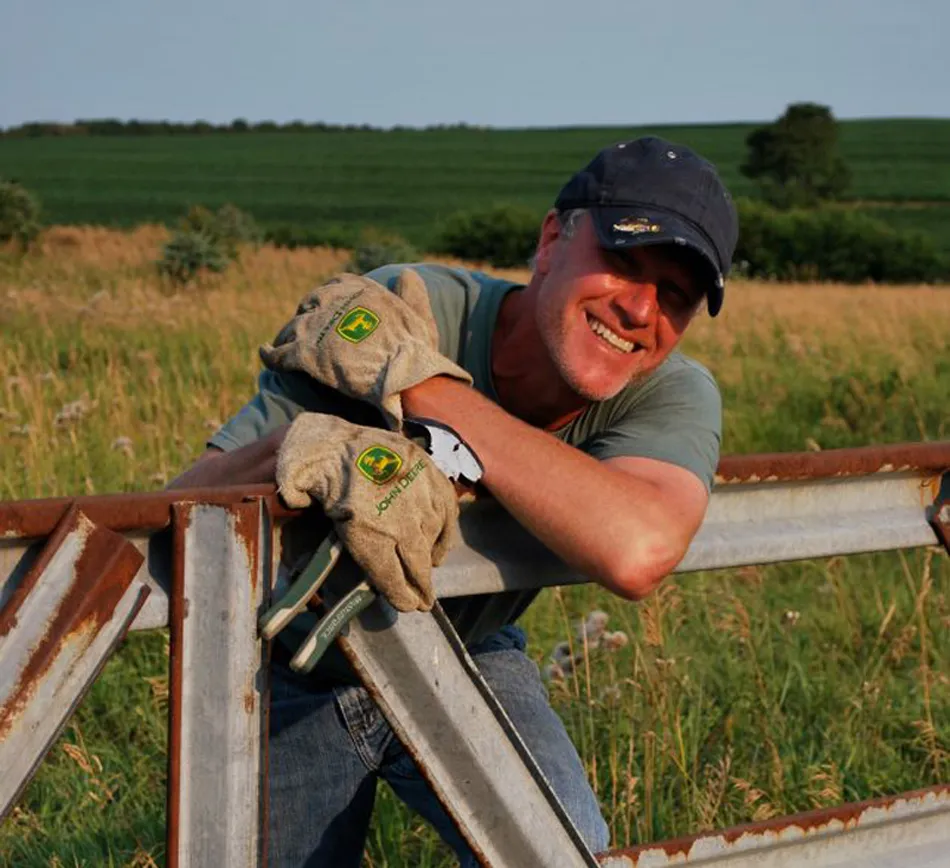 At a Crop Production Services facility opening in Grundy County, Iowa, a conversation between Clark Porter and a neighbor turned to Blackhawk Creek Water and Soil Coalition, a group spearhead by Porter, established in 2017.
The neighbor asked if it helped that Porter farmed in the watershed too. Porter said he believed it did. "It gives you credibility," observed the neighbor.
Porter hopes to rely on that credibility as he works to build a sense of community in a watershed with both rural and urban stakeholders – a condition that has led to past conflict in his state. Advocates in the city, where Porter lives, have told him he could serve as a "bridge" across the watershed.
"As a kid who grew up near the creek, I spent a lot of time skiing, paddling, and lazing around on sandbars – probably when I should have been studying," says Porter. "The creek has always meant something to me."
Connection and responsibility
He now operates Porter Family Farms near Reinbeck in Grundy County and lives in Blackhawk County, where he was a teacher in Waterloo for many years. His business decisions affect Blackhawk Creek, and for that reason—and his personal connection—he feels responsible for the creek's condition when making choices.
In his case, a foot in each county also means understanding rural and urban needs. Porter has given Waterloo students community-based learning experiences related to water. He also knows his own farm, earns from the land – and sees the condition of Blackhawk Creek, which flows through one of the most highly productive agricultural areas in Iowa, with more than 85% of land in cultivation.
Blackhawk Creek watershed drains 217,000 acres – nearly 350 square miles – and flows through an area including portions of Black Hawk, Grundy and Tama Counties before spilling into the Cedar River in Waterloo (population 68,314). The stream is listed by Iowa Department of Natural Resources as an impaired waterway due to elevated E. coli bacteria levels and, according to the U.S. Geological Survey, delivers an average of 2,720 tons of nitrates annually into the Cedar.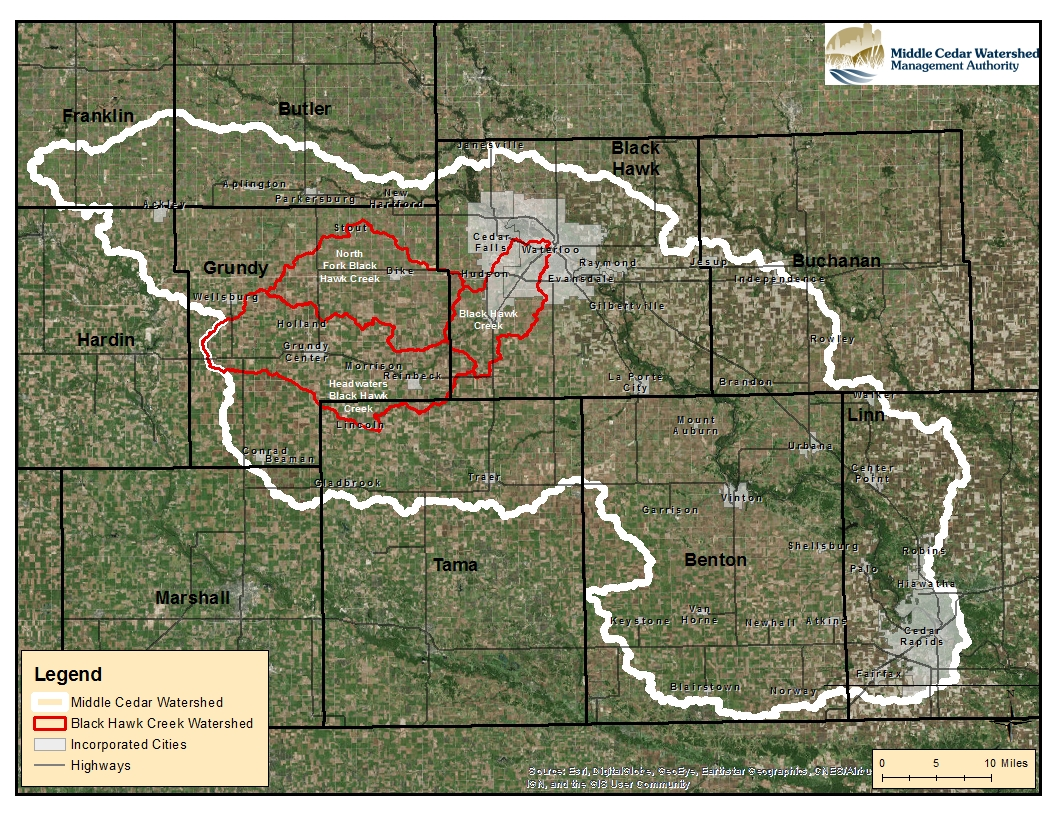 Blackhawk Creek Soil & Water Coalition came to be because Porter was concerned about lack of environmental policy, loss of habitat, and the condition of the stream. "I'd thought for a long time, 'Someone should do something about this!'" he says. "Then one day I realized, 'I should do something about this.'"
He started by visiting every conservation service he could find. He asked for collaboration, hosted meetings in rural parts of the watershed, and listened while landowners and farm operators told him what they need and want the watershed to look like in 10 years. He gathered a group of board members he describes as "wonderful, helpful, smart people who give wise counsel and reach out to their connections."
Questions lead to support and opportunity
The Coalition quickly affiliated with Middle Cedar Watershed Management Authority, an active Iowa water quality initiative, and Iowa Soybean Association stepped in to facilitate meetings and lead development of a full watershed plan.
By design the Coalition is a loosely structured group of organizations and individuals. But to get to the next, substantive level of community work, funding and organization are needed. Porter has registered the Coalition as a State of Iowa nonprofit corporation, and begun grant writing.
The volume of work accomplished in a year is nearly heroic. But Porter is quick to say he's stumbled a lot, still doesn't fully understand the complex systems around watershed restoration, and has a lot to learn. It's community work and he's a catalyst, getting the ball rolling and gathering people who are not used to working together.
"We can be angry about what's going on, or instead ask, 'What can I do locally?" says Porter. "I'm not a saint. I have tile lines draining into the creek. I'm out here like everyone else trying to figure out what to do."
And one at a time, he's inviting neighbors to figure it out with him.
— Story by Nancy North
After publication of this story, Black Hawk Creek Water & Soil Coalition was granted nearly $90,000 for a local initiative, in addition to a comprehensive watershed plan provided by Iowa Ag Water Coalition and funding allocated by Grundy County. A full time watershed coordinator now facilitates watershed restoration and protection work county-wide with the support of landowners and partners. Clark Porter operates his farm and has also taken on a role with Iowa Department of Agriculture & Land Stewardship as environmental specialist assigned to the nearby Miller Creek Water Quality Improvement Project in the larger Middle Cedar Watershed, engaging landowners in farmer-driven initiatives.
Fishers & Farmers Partnership for the Upper Mississippi River Basin supports collaborative, local, farmer-driven work for healthy streams, farms and fish habitat. For more than a decade we have provided funds to projects in Iowa, Illinois, Minnesota, Missouri and Wisconsin, as well as connection and leadership development for local teams, including this Iowa project. Learn about Fishers & Farmers Partnership funding and apply here.